It was back in 1979 when Sony introduced the portable audio player which revolutionized how we consume music with the Walkman. The first Walkman, TPS-L2, was a cassette tape player which quickly became a cultural phenomenon having sold millions of units since its inception. Over the years, the Walkman evolved and adapted to newer technologies like CDs, MP3 file formats and much more. The Walkman brand eventually expanded to include mobile phones and other portable devices, however, the peak 1980s OG and iconic Walkman series remains the golden standard. Cut to 2023, where smartphones and music streaming have pretty much become synonymous with one another, Sony has launched a new iteration of the Walkman which costs Rs 25, 990. This begs us to ask the question of whether this new Walkman is actually worth shelling out the price for or is it just nostalgia bait? Find out below – 
Design and Features
The Sony Walkman NW-A306 is a high-quality digital audio player that brings back memories from an era bygone. It's a compact and lightweight device featuring a 3.6-inch TFT display coupled with button controls on the side for ease of accessibility. While the Walkman is thicker than an average smartphone, it weighs lighter at just 113 grams. It has an eye catchy design that demands attention with its rippled wave design that covers the back of the device. The port selection consists of a 3.5mm Single-Enabled headphone output, coupled with a USB Type-C and an SD Card slot. The onboard storage is limited to 32GB with just 18GB out of it available for users to store offline music and load apps. It runs on Android 12 with connectivity options such as Wi-Fi and Bluetooth 5.0. 
The Walkman supports playback of Hi-Res audio files up to 24-bit/192kHz which translates to the user enjoying their music with the utmost clarity and detail. The device also comes equipped with Sony's proprietary Digital Sound Enhancement Engine (DSEE Ultimate) technology which is capable of upscaling compressed audio files to enhance their sound quality. As it runs on Android 12, all your favourite streaming apps can be downloaded on the NW-A306 and used seamlessly. Overall, Sony has built a compact and complete package for the audio geek. 
Performance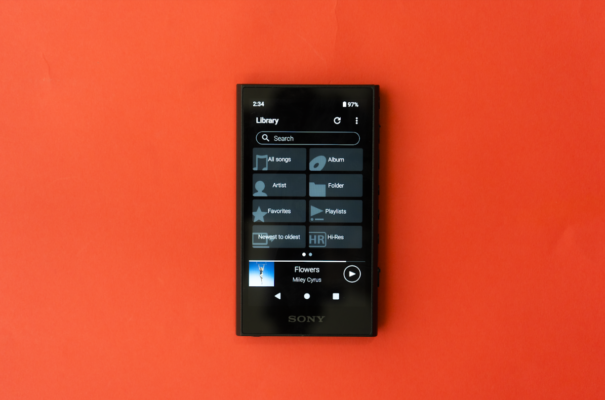 At the first glance, the Sony Walkman NW-A306 comes off as an unnecessary device meant only for the truly indulgent among us. However, once you get to use the device and compare its audio quality to the standard smartphones we use to stream music nowadays is when you'll realize its actual prowess. The device is designed to play/stream music and it does so flawlessly. Its audio output is incomparable when it comes to smartphones as they don't flaunt the hardware features present in the Walkman. It features wireless HI-Res Audio with Sony's premium wireless codec titled LDAC. On paper, LDAC technology allows 3X the bitrate of standard Bluetooth and provides a better listening experience. During my testing of the device, the experience through Bluetooth headsets and wired earphones was both unmatchable to any other device. However, the crispest audio quality from the Walkman can be achieved through FLAC files in the offline mode. I listened to the entirety of Adele's studio album '30' on the FLAC file format and it felt like she was singing right in front of me (no exaggeration) Standard 128Kbps and 320Kbps sound formats can be upscaled using the DSEE Ultimate feature present and the difference in sound quality after turning it on was always notable. Other features in the audio tuning section include Vinyl Processor, ClearAudio+, and DC Phase Linearizer along with a standard Equalizer. It comes with an auto power-off feature which always came in handy to preserve battery during a trek. The sound output here can be dialled up to 120 and no sound distortion or noise was witnessed at higher volumes. To sum it all up, the Sony Walkman NW-A306 is truly a treat for the audiophile. While some eyebrows are sure to rise when it comes to the NW-A306's pricing, it is definitely justified for the premium performance you get for it. 
Verdict
The Sony Walkman NW-A306 builds upon the legacy of the Walkman brand with flying colours. It rewrites the boundaries of personal audio consumption by offering high-quality premium sound features in a compact package.
Rating – ⭐⭐⭐⭐