Be it projectors or monitors, BenQ is a trustworthy name when it comes to digital solutions. This was the very first time I got to try a BenQ monitor and it surprised me in various aspects. The BenQ PD2725U is touted as a monitor for creators i.e. for graphic designers, video editors, and more. As someone who is neither of the two, I got my hands on the monitor with some scepticism as I feared I wouldn't be able to tap into the entire potential of this monitor. The solution – I handed it to my video editor who plugged it in using a Mac Mini and took his initial thoughts on it. Additionally, I tested the monitor as my daily driver for writing content, watching videos, playing games, etc. Here is the detailed review of the BenQ PD2725U Designer Monitor –
Design
benQ PD2725U's design is perhaps one of its best features. The base of this monitor is exceptionally large and takes up a lot of space. However, the form factor of this base is thin so users can place their desktop companions like an action figure or more making that space usable. The monitor sports a minimal design which makes it a treat to look at, it definitely is aesthetically pleasing. The screen bezels are neither criminally big nor exceptionally slim. The screen real estate here is well-balanced for this 27-inch monitor.
One issue that I've witnessed in the past while reviewing monitors is the lack of connectivity options. Luckily, the PD2725U does not have any such issues providing a wide option of connectivity ports. There are two HDMI ports, and a USB 3.0 hub, coupled with a 3.5 mm jack. You also get the convenience of Thunderbolt 3 here which sure is appreciable but Thunderbolt 4 would've been better. One of my favourite features of this monitor has to be the external hotkey puck which allows users to simply switch between features and manage the brightness.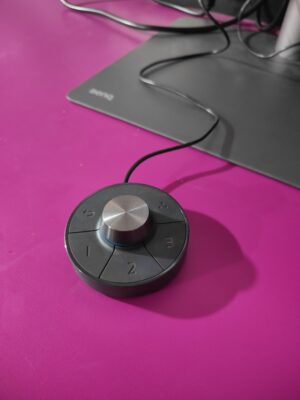 Performance
The BenQ PD2725U is powered by an IPS-grade panel with a maximum resolution of 3840 x 2160. It's got the support of 100% sRGB/Rec. 709 and 95% DCI-P3 colour gamuts coupled with a vast colour palette of 1.07 billion colours. All the technical jargon basically translates to the monitor delivering solid visuals and colour accuracy. It is equipped with a 4ms response time which ensures that there are minimal inaccuracies in the colour reproduction.
It sports a peak brightness of 300 nits using DR10 VESA display technology. It is capable of producing some sharply contrasted images and deep details. During our video editing test of the monitor, our in-house editor was impressed with the colour accuracy of the display vowing it to be one of the best displays he's worked on. The display is capable of producing some immersive visuals which can be easily adjusted thanks to the hotkey puck and the buttons placed under the bottom bezel. It is important to note that this monitor comes with an in-built speaker which is beyond underwhelming. It is not a substitute for your desktop speakers in any shape or form given its low sound output. The speakers and the absence of a Thunderbolt 4 port are some of the biggest weaknesses of this monitor which is placed at the premium ₹ 67,990.00 price.
Verdict
BenQ PD2725U is definitely one of the best monitors you can buy right now. It exceeded expectations for an IPS-grade monitor during our testing when it comes to producing a crisp and immersive visual experience. it provides an extensive connectivity hub which eases the job for creative professionals. The lack of a good speaker output leaves a sour taste in the mouth.
Rating – ⭐⭐⭐½