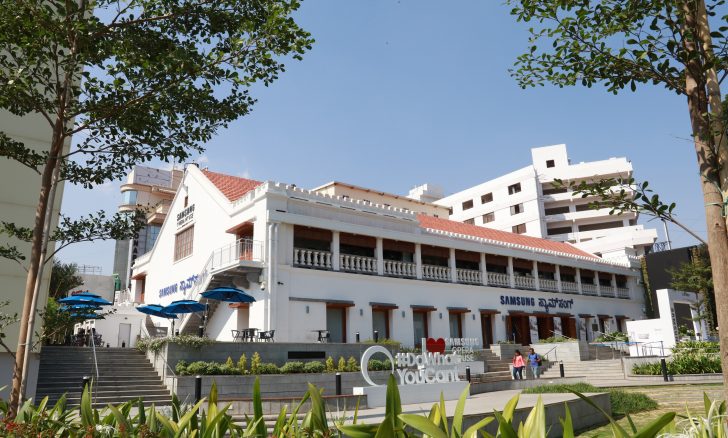 What a turnaround it is! Bengaluru's iconic Opera House was used for operas and cultural events during the British cantonment days back in the 1930s. The Opera House later became a movie theatre. Sadly, the iconic piece of architecture was shut for the longest time before Samsung decided to take it under its wing and revamp it entirely as Samsung's largest experience centre. In 2023, The Samsung Opera House is a must-visit destination for Bengalurians, especially for Gen-Z and Millenials. The historic Opera House's transformation into a futuristic Samsung experience center has completed its fifth glorious year!
Samsung Opera House Fifth Anniversary
The Samsung Opera House's spectacular original appearance from the early 1900s is still present on its façade, but the interior is a contemporary experience area that makes heavy use of cutting-edge technology. Along with premier consumer electronics products, it features the entire lineup of Samsung smartphones and wearable technology. For those who want to use the Home office zone as their place of business, it also contains a fully functional customer service center and high-speed internet.
Samsung Opera House Experience Centre opened its doors back in 2018 and completed its fifth glorious year in 2023. It is a celebrated hub of innovation, entertainment, lifestyle, and culture in Bengaluru hosting multiple events across the years. Since its inception, more than 1K events have been organized at the experience centre. In the last four years, Samsung Opera house has hosted over 600 events that include product launches, live music, OTT Movie Premier, cultural performances, fashion shows, gaming tournaments, stand-up acts, and Galaxy workshops.
The events include Galaxy workshops on multiple creative avenues like photography, doodling, editing, Ted Talks, and much more. Baking workshops, movie screenings, and many more events have also taken place at the Opera House over the years. Samsung has focused on making the centre as an immersive experience by offering a wide range of products such as QLED TVs, Bespoke Refrigerators, The Frame TVs, Microwaves, and even activity zones at the Samsung Opera House.
Back in 2022, Samsung celebrated the fourth anniversary of the iconic experience centre by organizing a K-Fiesta where a large number of K-pop fans from across schools and colleges in Bengaluru gathered to celebrate K-pop. This year-round too, the K-Fiesta event will be making a return for enthusiasts to immerse themselves in the vibrant world of Korean music, cuisine, and culture at the Samsung Opera House!
Samsung Opera House is now not just a hub of Connected Living, Gaming Arena, Audio, Home Theatre, and Lifestyle TVs, showcasing multi-device connectivity with SmartThings but also has a brand-new Starbucks outlet.
Check out all the details about the upcoming K-Fiesta event at the Samsung Opera House – HERE!