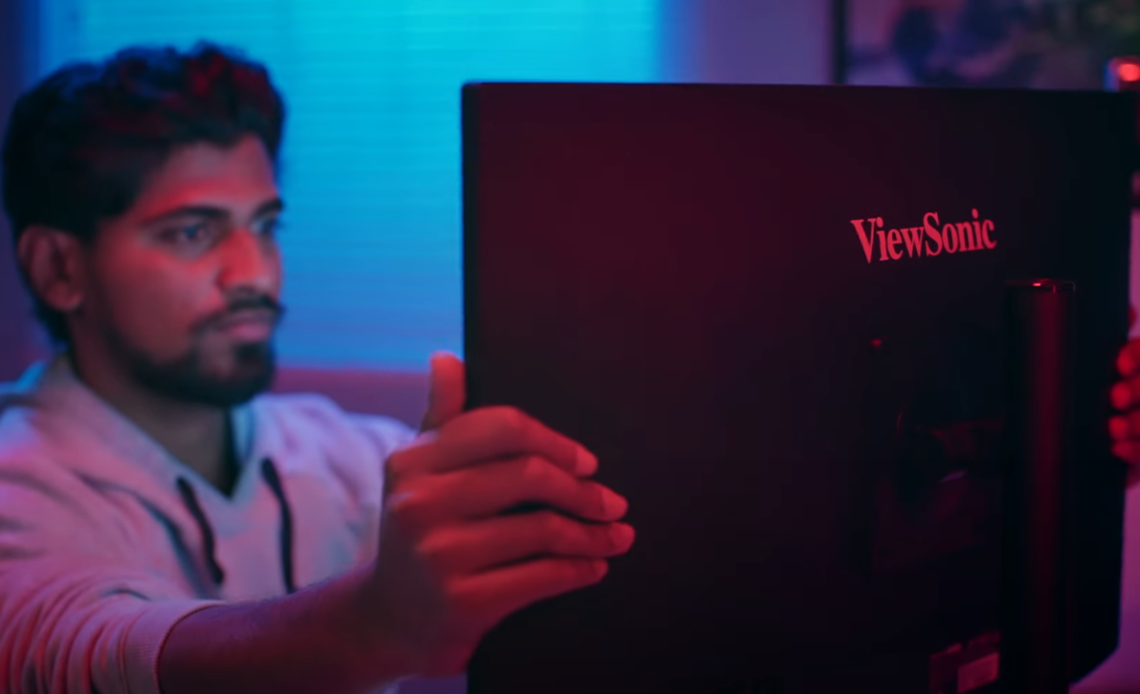 If you're in the market to build a capable gaming desktop PC then you end up spending a bomb. There are multiple components involved in building a powerhouse PC and one of the most important part of the setup is having a good monitor. Sure, you can spend as much as over a lakh for a good display but what if you can find a capable display at just ₹16,499? This is where the ViewSonic Omni VX2728J gaming monitor comes into the picture. Check out the full review of this efficient monitor below –
ViewSonic Omni VX2728J Gaming Monitor Design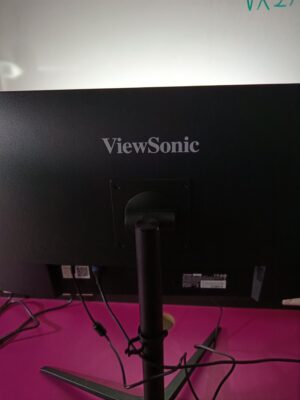 The design of the VX2728J is pretty much a standard affair. It is a simple and effective design packed and parcelled under a sleek form factor. There's not much to complain about the design of this monitor except for the clicking buttons placed at the bottom right. The buttons and the OSD interface that pops on clicking them will remind you of yesteryear monitors. However, the design truly screams premium with a solid build quality. The minimalistic design factor of the monitor works really well. It sports a flat-screen display at 27 inches coupled with a 16:9 aspect ratio.
Setting up the monitor was not an issue as it comes with a simple VESA mount. The metal arm and stand the monitor rests on are sturdy. The overall bezels of this monitor are slim barring the bottom bezel which is slightly thicker. I wish there was a better cable management option here as the clip provided to the metal arm is not really effective.
ViewSonic Omni VX2728J Gaming Monitor Performance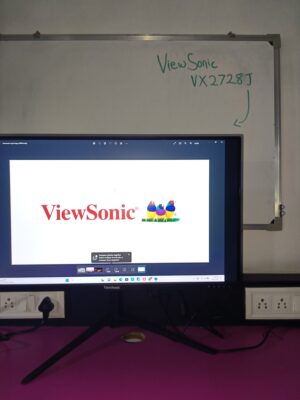 Gaming monitors are expected to be 2K or 4K in the current scenario given how far PC gaming has come. However, the ViewSonic Omni VX2728J is a 1080P display with a resolution of 1920×1080 pixels. It has a high refresh rate of 165Hz and peak brightness of 250 nits coupled with a quick response time of 0.5ms. Even at 1080P resolution, the monitor is capable of producing some immersive visuals.
The monitor sports the AMD FreeSync Premium and VESA Adaptive Sync technologies which collaborate to make up a lag-free gaming experience. The lack of 4K resolution is salvaged by the presence of AMD FreeSync and VESA Adaptive Sync but if you're a pro gamer then this monitor will leave you asking for more, a higher resolution would have made this display an easy recommendation. Even with limitations, the VX2728J performs with flying colors. While we're talking about colors, this display sports a wide color gamut and supports a wide range of 16.7 million colors. The color production of this monitor is a treat to look at.
I spent a big chunk of my time testing this monitor binge-watching shows on Netflix and the monitor did not disappoint when it comes to picture quality. There are a few color profiles you can choose from through settings but I found myself sticking to the 'Standard' mode by default. What disappoints is the speaker setup. The monitor comes with a 2×2-watt integrated speaker setup which is definitely better than some of the monitors I've tested recently but still underwhelming. The support for HDR10 is appreciated given the price range.
As a casual gamer and a film addict, the ViewSonic Omni VX2728J Gaming Monitor is beyond just a usable monitor. It's capable of producing good picture quality with vibrant colors. There are some screen bleeding issues but it's not out of the ordinary for monitors in this price category.
Verdict
One of the few complaints I could find about the ViewSonic Omni VX2728J Gaming Monitor has to be its display resolution. 1080P resolution on a 27-inch monitor does not really work even when the display is capable of producing punchy colors. However, if you can look past the resolution limitation then ViewSonic Omni VX2728J Gaming Monitor is one of the best monitors you can right now. It is a sound choice for people who do not wish to spend over 20K on their gaming monitor. The AMD FreeSync Premium and VESA Adaptive Sync technologies make this monitor a well-performing all-rounder.
Rating – ⭐⭐⭐ ½