When judges asked her during the final question and answer round of Miss World 2017, "Which profession should receive the highest salary in the world?" she responded, "A mother", and we all knew what happened ahead. The young lady was crowned Miss World 2017, and she's none other than our very own Manushi Chhillar, who's recently roped in by UNDP to spread awareness and all set to get the biggest launch in Bollywood opposite superstar Akshay Kumar in Prithviraj.
Ex: You have taken over the world quite literally, how would you like to describe your journey?
Manushi: I would describe my journey as fun, exciting, and I think it was like an adventure ride because there was so much I got to do in life, and there's so much growth that I've seen in the last four years. But I think most importantly, it's been a vast learning experience for me because I got to experience a lot of things at a very young age. Whether it was travelling, meeting different kinds of people, or meeting world leaders to the most underprivileged of a particular society. So I think it's been a fascinating journey, and there's been a lot of learning.
Ex: What is your favourite Mumbai street food?
Manushi: I think Bombay is incomplete without its Vada Pav, and I don't think I've ever had a bad Vada Pav in Bombay.
Ex: Most people perceive that you need to be an exceptional beauty to hold a title like 'Miss World or Miss Universe. How would you describe the term beauty?
Manushi: I believe that beauty for me is being unapologetically yourself and being who you are. We're all unique, and we can all stay unique as long as we are ourselves. And when you talk about Miss Pageants, like Miss World, I'd say that they are not about being an exceptional beauty, but they're about recognizing the fact that all of us, including all the contestants and everyone else, are exceptional beauties.
Ex: What do you do for a digital detox?
Manushi: My digital detox is usually on the days when I'm not working because on the working days, there's always something or the other that's happening on the phone, and all the communication happens over there. However, I love taking at least one day off a week and doing something that I love doing, maybe painting. And when I'm in that zone, I usually don't need any gadgets, or I don't even look at my phone. I travel a lot, but I click very few pictures because I don't like to have my phone on me when I'm travelling. Unless, of course, you need to make an urgent call. So my holidays are my digital detox because I don't like being on my phone. Otherwise, when I'm on set and when I'm working, except for the parts that I'm shooting, I need my phone.
Ex: What is your average screen time on a daily basis?
Manushi: My average screen time keeps varying. There are days when I only spend an hour on my phone, and I'm not kidding, but then there are days when this goes up to almost 8 hours a day. So basically, it depends on what kind of day I'm having.
Ex: Manushi, you have inspired many young women, but who has been your inspiration all this while?
Manushi: I think it's really sweet and humbling when people tell me that I have in some way added value or inspired them in life. But for me, I've had a lot of great men and women that I've looked up to growing up. And the constant has been my parents. I think they are two individuals that I really look up to, and I absolutely adore, and I've always tried to become someone like my mother.
Ex: What is that one cause you always stand up for and believe everyone should come together?
Manushi: I have always strongly felt for health and hygiene, especially for women, because I believe that if the woman of a family is healthy and learns the right hygiene, that impacts the entire family. She makes sure that the entire family is healthy and entire family knows how to practice good hygiene. So for me, female health and hygiene have always been essential. And I think that is something which I wish is very basic and I hope that it's something that a lot more people in the world would take up.
Ex: What is the most expensive piece of gadget you own, and what is that one gadget besides your phone, of course, that you believe holds great importance in your life or home?
Manushi: The most expensive piece of gadget that I own is my watch because I love how mechanical watches work and how they use kinetic energy in order to make sure that the watch runs for a longer time. I absolutely love that whole idea, so it has to be my watch. A gadget that holds great importance in my life or home besides my phone would definitely be my iPad and AirPods because I really can't go anywhere without them. I think our houses are now so dependent on gadgets, whether it's a good television set or great speakers. There are so many gadgets that go into the kitchen and, of course, your air conditioning. All of these gadgets have evolved so quickly over time. So it would be challenging for me to pick just one crucial device for homes.
Ex: Three things you do to keep yourself calm during stressful times.
Manushi: There are many things that help me keep calm during stressful times but talking about the top three – The first one is a form of physical activity, whether it's cycling, taking a long walk somewhere around nature or working out or dancing. Physical activity helps release all the endorphins I need during a stressful day. The second has to be painting as it has a long-lasting effect on my mood, and I always feel very calm when I paint. And the third is spending time with family and loved ones.
Ex: Every actor takes something away from the character they portray. What do you take away from your first film Prithviraj?
Manushi: My takeaway from my first film, Prithviraj, would be the fact that Sanyogita is the first character that I will be portraying on screen and the first character that I prepared for a film. And I feel like a lot of situations that she was put in and a lot of opinions that she had or emotions that she felt were very new to me as an individual who had not experienced such a situation in life. So it took a lot of understanding because I had to justify her actions to myself before I could justify her actions to the world in front of the camera. Also, there's a lot to learn from that girl who had a transition from being a Princess to being a Queen and standing up for what she believed was right. And more than anything else, your first film, your first experience, teaches a lot to you. And I only fall in love with the process of filmmaking through Prithviraj.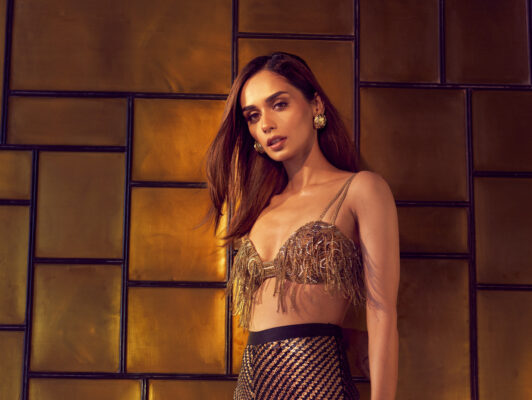 A Few Quick Bytes
Ex: What do you prefer? Movies or web series?
Manushi: Movies.
Ex: What's your dream car?
Manushi: One of those convertible red Porsche, those two-seater ones.
Ex: What's your favourite place to escape to?
Manushi: Currently it would be Paris.
Ex: Where do you stand on the pineapple pizza discourse?
Manushi: I don't think I stand anywhere because I would rather throw up.
Ex: Are you fond of collectibles? What do you like collecting?
Manushi: Yes, I do like to collect keychains, stickers, and postcards.
Ex: One bizarre dream you remember having recently?
Manushi: Recently, I dreamt that I had broken my phone.