Cryptocurrencies are one of the most long-lasted trending topics in the world; from Mike Tyson, who saw the future of cryptocurrency even before it was in trend, to Tesla CEO Elon Musk, many celebrities backed the digital currency, which influences millions of people to invest in the cryptocurrencies. Bitcoin and Ethereum are two of the most popular cryptocurrencies globally, and their trading is legalized in many developed countries, including Japan, the United States, Canada, Australia and a number of European countries.
The Background:
Everyone who invests or wishes to invest in stocks or cryptocurrencies is aware of its unpredictable nature. Recently, Bitcoin and a few other popular cryptocurrencies encountered a dramatic pullback in the market. The flagship cryptocurrency Bitcoin confronted the highest low ($30000 at one point) in the last three months, and Ethereum drained to below $2,000 at one point. 
The dramatic collapse created a buzz in the online trading world with negative headlines and raised concern over the future of cryptocurrencies. The future of digital currencies is uncertain, but only if you invest blindly and only if you're looking for immediate returns. It is currently dealing with the struggling phase because the whole world hasn't accepted it, but it'll surely go up when it does. 
India and China cover about 35% of the world population; amongst them, more than 50% population predominantly includes young tech-savvy investors who are more flexible to crypto savings. Several countries have already begun real-world trials of their digital coins. So, the day is not far when these two countries legalize crypto, which will ultimately surge the value of digital currencies.
The Latest Move by the Indian Government:
The Indian investment in cryptocurrencies was around $923 million until April 2020, which spiked up dramatically to $6.6 billion (close to INR 50,000 crores) until May 2021. India is currently ranked at number 11 out of 154 nations, who have adopted and invested in cryptocurrencies. However, digital currency is not sanctioned officially by the Indian government yet. According to recent reports, the Reserve Bank of India is planning to introduce its own digital currency dubbed Central Bank Digital Currency (CBDC).
The latest initiative by the RBI might open the gate for the trading of cryptocurrencies in India, but it will take years for final approval, and till then, a large sum of the population would not dare to invest. Still, if you're looking to invest in crypto and looking for better currencies that will last longer and benefit you after 20-25 years, here's a list of top cryptocurrencies with the best future.
1. Bitcoin:
Currency Symbol: ₿
Market Capitalization: Over $750 billion
Bitcoin is a decentralized digital currency, which works without a central bank or single administrator, and runs on a blockchain system distributed across a network of thousands of computers. Bitcoin or BTC is referred to as the original cryptocurrency, and it was created in 2009 by Satoshi Nakamoto, a fictitious or pseudonym name of the founder whose identity is still unknown to the world. 
Bitcoin is a computer file stored in a digital wallet app on a smartphone or computer. It is executed as a chain of blocks, which keeps it secure and safe from fraudsters. Each block contains a hash of the previous block up to the genesis block of the chain. Bitcoin has struggled over the last couple of months, falling about 50% from its peak, but still, today, one Bitcoin is valued at $40k (₹29,80,000).
Glancing at the current status and dramatic downfall of Bitcoin, it might look like investing in digital currency is no longer a good choice. However, if you're a keen observer of the cryptocurrencies, you'll notice the price is still up from where it began its parade in late 2020. If you're looking for a handsome profit through your investment in Bitcoin, you should learn how to keep yourself patient and forget your investment for the next 10-15 years. 
According to recent predictions by cryptocurrency experts, bitcoin will overtake the US dollar as the predominant form of global finance by the year 2050, and the value of one Bitcoin will strike $65,000 by the end of 2021 and will overtake the US dollar with the value of $1,50,000 by the end of 2025.
2. Ethereum: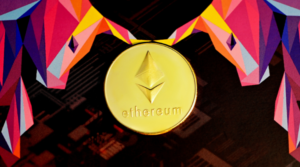 Currency Symbol: Ξ
Market Capitalization: Over $268 billion
Ethereum is a decentralized, open-source blockchain and distributed computing platform that enables smart contracts and decentralized applications. The smart contract functionality of the platform helps in automatic execution when conditions are met along with non-fungible tokens. Ethereum was co-founded by Vitalik Buterin and Gavin Wood in 2015, and ether is the native cryptocurrency of the platform.
Ethereum has experienced a tremendous level of growth; it had started its journey at just $11 and reached over $2,500 in just five years. One Ethereum is currently valued at around $2,300k (₹1,70,000), which seems far away from the current value of one Bitcoin. Ethereum blocks do verification approximately every 12 seconds, whereas Bitcoin does the same every 10 minutes.
When Bitcoin faced a global crackdown, several other cryptocurrencies proved themselves to be a new contender for a top position in the crypto world, and Ethereum was one of them, who grabbed a lot of praise and attention. According to the latest predictions by investment banking company Goldman Sachs, Ethereum could soon make the cryptocurrency the dominant digital store in the world, and it could overtake Bitcoin in the coming years. 
The investment banking company also mentioned that gold would remain the first choice for investors despite the conflict between top cryptocurrencies. Ethereum grew over 900% over the past year, while Bitcoin only managed to jump 275%; still, Bitcoin is way ahead of its close rival, Ethereum. Surpassing Bitcoin won't be an easy game, but looking at the innovation and developer interest, some experts also believe Ethereum might surpass Bitcoin in the near future.
3. Tether:
Currency Symbol: ₮
Market Capitalization: Over $61 billion
Tether is the world's third-largest cryptocurrency by market value, and it is rumoured to be backed by fiat currencies like U.S. dollars and the Euro. Ordinary people haven't heard of it, but it is considerably popular amongst crypto traders who often use tether to buy cryptocurrencies due to its stable nature.
Tether is referred to as stablecoin because it was initially designed always to be worth $1.00, and that's why the currency is more favoured by the investors who are cautious of the extreme volatility of other coins. The stablecoin is controlled by the owners of Bitfinex, a Hong Kong-based cryptocurrency exchange.
Along with these three cryptocurrencies, there are more than 10,000 different cryptocurrencies globally, including some of the popular currencies like Binance Coin, Cardano, Dogecoin, XRP and USD Coin. All of these cryptocurrencies hold a total value of more than $1.3 trillion till 28th July 2021, after falling from a career-high of $2.2 trillion in April.