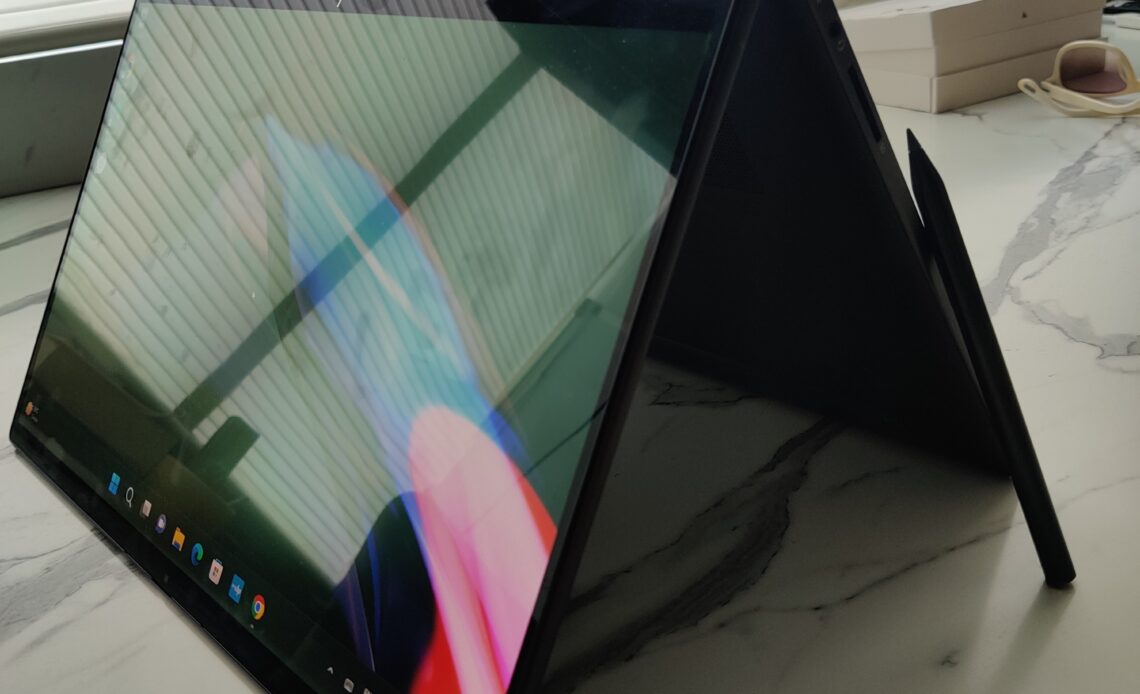 Ultrabooks aren't new in the portable computing device game, and HP is constantly spoiling us with options. One such option is the new HP Envy 15 x360. It perfectly fits between the budget pavilion series and the flagship spectre series of laptops. It starts at ₹92,000, but let's see if it can justify that hefty price and who it's for. 
Design:
HP has always nailed design, if there's anyone that competes with the Macbook's design without blatantly copying them, it's them. The Envy has a premium metallic finish on the chassis and a glossy screen supported by reassuring hinges. It also passed our 1 hand lift test. Unlike the competition, the included zenvo rechargeable pen fits snugly onto the right side of the frame in its dedicated space using magnets. From the trackpad placement to the tactile keyboard, everything is perfect. The keys are backlit and sized perfectly. Secondly, the 360 degree hinge allows for a lie flat usage scenario. The rechargeable pen is cherry on top for presentations and smooth scrolling. Port Selection is decent but could've been better, the only reason I say that is because the 2 type C thunderbolt ports are on the right side, which causes slight hindrance while plugging it in. You get USB-A, USB Type-C, 3.5mm jack, HDMI and an SD card reader.

Display:
4K is the new 1080p
The 15 inch 1080p display is enough but a 4K or atleast QHD offering would have helped set the Envy apart from its competition easily. You can however, get an AMOLED by paying more but then you end up in last year's spectre territory. That being said, the IMAX Enhanced tuning really helps create an immersive content viewing experience when paired with the B&O speakers. Since the display is touch enabled and the hinge allows for a 360 rotation, the Envy also doubles up as a tablet. Speaking of using it as a tablet, the IR enabled webcam is really crisp, one of the best ones in a windows machine. HP also offers a physical shutter for the camera to create a sense of privacy. 
Performance:
This ultrabook does great at what ultrabooks are expected to do and this one even manages to perform decently at tasks that a high performance laptop does best. Essentially, the 13th gen Intel Evo i5-1335U is great at handling multitasking and processor intensive tasks but combined with the Iris Xe graphics I feel it's not the best for gaming or video editing. The ideal workload for this machine is for apps that have high CPU and high RAM usage but low GPU usage, coding for instance or even the common 20+ tabs open at the same time while making a PPT whilst watching Netflix workload. The speakers deliver crisp and loud audio although no Windows laptop can ever compete with the Macbook's speakers, which even manages to deliver decent bass with the aforementioned aspects. Allow me to knit-pick for a moment but ultrabooks are all about convenience and nothing screams convenience like a fingerprint scanner, which the Envy misses out on. However, windows hello face recognition partially makes up for this. Oh well, maybe next year's model will have it.


Battery Life:
Best I've seen in an HP. Basic web browsing and content consumption can easily be done for 8-9 hours without plugging in. HP has managed to pack a 55 Wh battery in this slim chassis which makes it one of the few windows machines with exceptional battery life. It also supports fast charging via both thunderbolt ports so you can carry a lighter USB PD charger as an alternative to the bulky type-C 65W adapter that comes in the box.


Verdict:
Anybody who's top 3 priorities from a work machine are: Portability, a touchscreen display with a pen and good battery life should keep the HP Envy 15 at the top of their list. For folks who want more in terms of performance, I suggest looking at other work horses. For everybody else including avid content watchers and college students, it doesn't get better than this, unless of course you start looking at the Spectre series. 
Rating: ★★★★