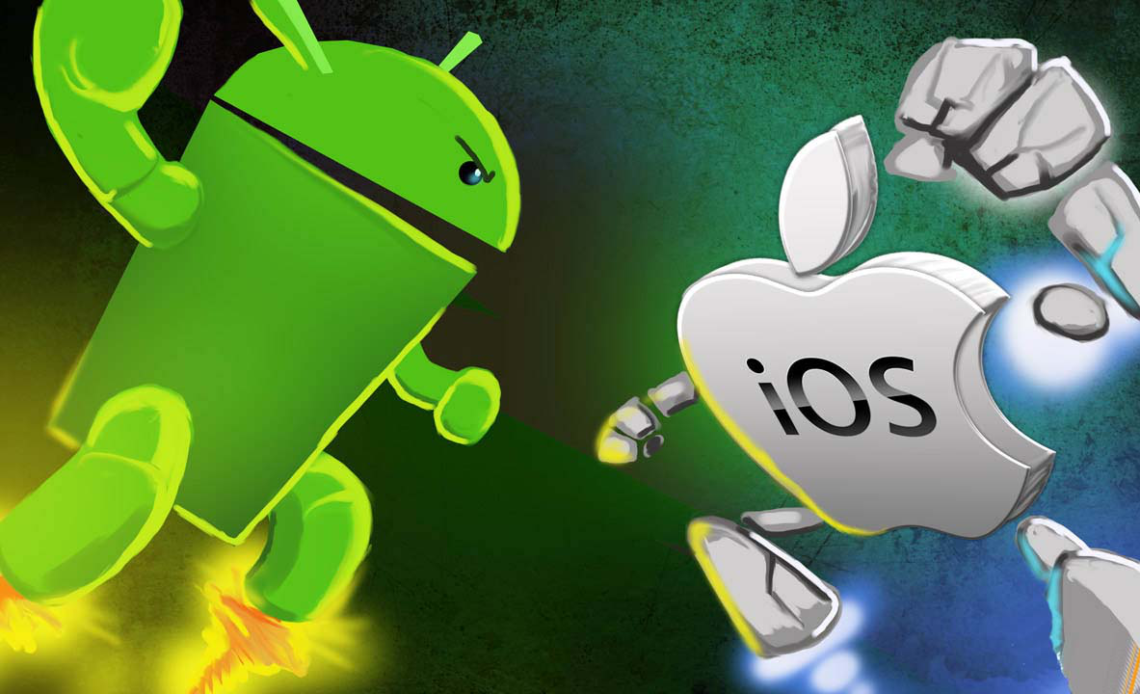 At least once in your life, you have run into a conversation that poses a comparison between Android and iOS. While we are all aware that Google's Android offers a more open platform, choice, versatility, and customization, there must be something that keeps the users hooked to the iOS devices. The fight between Android vs iOS will never have a real winner. However, we might help you find your pick. 
The latest versions of both the operating systems – iOS 15 and Android 12, are pretty excellent but in different ways. Many of the features, such as swiping, and zooming in and out, overlap, but both have a different design, except for the basic touch-screen layout. You need to know the strength of both these operating systems to get a clear picture of which smartphone to invest in. Currently, the flagship smartphones of both these OS are Google Pixel 6 and iPhone 13. 
Android 12 vs iOS 15
Both Android and iOS are unique, with similar features and layouts. We will list them all on some parameters, and the OS that ticks more boxes becomes the winner. 
Personalization
With its design and layout, Google has taken this one right off the bat. From layout to wallpaper changes, Android 12 adapts to everything, from wallpaper changes to layout, and the notification panel, which can be customized to make the phone your own. 
iOS, on the other hand, gets some degree of customizability but gets outperformed by Android 12. You can not have a blank home screen on an iPhone, and it's a little disappointing. 
I think Apple does excellently by giving notifications a needed facelift in iOS 15, with bigger app icons and contact photos for conversation notifications. 
Fluidity
Both the operating systems are quite fluid and stable as far as the overall performance is concerned. With Android 12, the calculator looks updated with new angles, new Google apps, and standard apps like Settings, Privacy, and Games.
With iOS 15, the flagship browser Safari has been redesigned with the address bar at the bottom, closer to the keyboard, refined notifications, and App Library. All the apps have well-rounded corners and a pie-chart-like display of various stats. The apps on iOS 15 seem to work on a similar template and come with a certain level of polish.
Google is trying to catch up on a similar level of consistency with Android, but iOS wins the race for now.
Updates
Apple is known for its better update timeline since iOS rolls out updates on the same date for every device without discrimination. Whether it is the iPhone 6 or iPhone 13, all the phones will get the same update simultaneously.
On the contrary, Android smartphone makers schedule updates according to their priorities and do not sync with Google. This is because most smartphone brands put their flavours to the Android version and are tweaked for the next update.  
While iOS 15 rolled the updates for all the devices at once, Android 12 makes you wait for the OEM to provide the update, and that can take months. iOS is a clear winner here. 
Gaming
Android 12 has come up with some exciting features for gamers. The 'play as you download' feature lets the user play games while other assets are being downloaded in the background. Also, there are added features like quick toggles in its Game Dashboard that let you take screenshots and toggle DND. Android devices have a larger collection of games as compared to iOS. 
On iOS 15, everything revolves around the App Store and Apple Arcade. You get a dedicated Focus Mode for games and a game centre for the multiplayer experience; however, there are no console-quality games despite the powerful chipset that iPhone comes with. 
Bloatware
Apple has the upper hand because Google doesn't decide on pre-loaded apps on every Android phone. While the Pixel lineup and a few other high-end smartphones have decent pre-loaded apps, it is not the same for every Android smartphone, for they are loaded with bloatware. 
iOS 15 lets you delete whatever you want from your smartphone, but Android 12 wouldn't let you do the same. Few apps can be a potential privacy threat to your data. 
Conclusion
iOS and Android are the two most popular mobile operating systems around the world. What makes iOS different from Android is that you can get a lot of variations of Android depending upon the OEMs, but there's only one version of iOS throughout every iPhone lineup. Apple excels in consistency. 
It isn't easy to judge both these operating systems and pick out the best but let's say that while Android beats iOS in customizability, iOS covers the road of longevity more than Android.