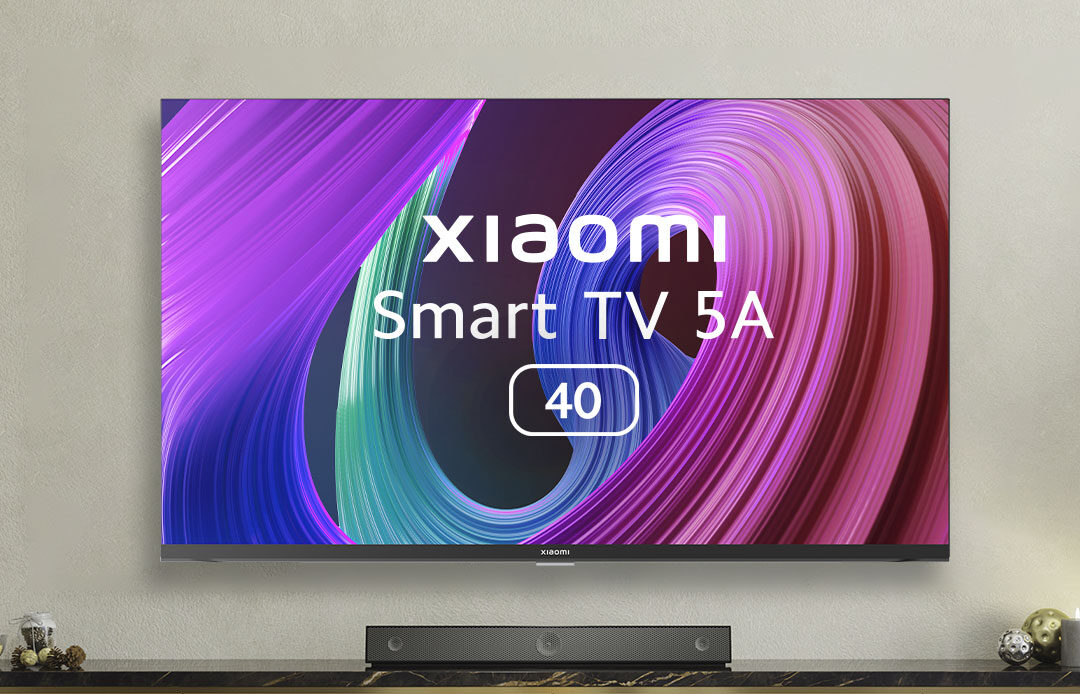 Research has found that 43-inch televisions are the most sold television size in India. Thanks to the predecessor of the unit we review below, 43-inch television prices became competitive. In 2022, getting a new television is not that big deal. Infact there is now a paradox of choice. Most options are so good that it is almost impossible to go wrong when selecting a 43-inch television. I own the Xiaomi Smart TV 4X, and this is how I feel the newer 5A TV has improved over the years. 
New age budget package 
This time around, the Xiaomi 5A TV features slim and thin bezels. It makes the television seem much more premium than its asking price. It has almost identical TV stands as the earlier models, and nearly all exterior is gloss black plastic, including the stands. A subtle Xiaomi branding upfront and an LED light with a power button below it keep the design clean. There are two HDMI 2.0 ports with one supporting ARC, two USB Type-A ports mashed into one socket, an ethernet port, an AV composite port, an optical port and a 3.5mm audio jack. Basics done right! The display has improved many folds. The remote, too, has seen improvements with Google Assistant speak to command button right below the power button.  
The remote buttons have been updated, and now this television gets 14 controls with a volume rocker. These also include popular OTT applications Netflix, amazon prime video, Disney+ Hotstar and a dedicated apps button to access all the apps quickly.
Evolutionary improvements
The 43-inch display now comes with IPS LCD technology. A new vivid picture engine powered by a new age low-end quad-core processor, 1.5GB RAM, and 8GB ROM, make the display brighter and more vibrant. The overall feel, bezel-less design, and better picture quality make the Xiaomi Smart TV 5A a worthy competitor in a crowded, dynamic TV market. The TV comes loaded with Android TV 11 based on Android 11 and thus supports all modern apps available on Google Play Store for Android TV. 
The video experience is enhanced with global dimming controls, local contrast control and adaptive luma control. But the main highlight is the vivid picture engine that makes the contrasts, brightness and colours look better than in previous iterations. The most significant change from the last 4 series must be the new and improved 24W dual-speakers with Dolby Atmos and DTS-X software enhancements. 
The audio quality of the television is further improved with options like DTS-X bass enhancement, surround virtualizer and dialogue clarity. If that wasn't enough, there is a DAC-4 dialogue enhancer with three levels of settings. Technicals aside, the television sounds above average in its segment and is enough to fill a small room easily. 
A budget option in a crowded market
The 43-inch TV market is buzzing with good options from all brands. Xiaomi Smart TV 5A is an excellent addition to the budget market and improves on the overall appeal as a feature-loaded budget smart TV. Android 11 over and above the improved audio-video experience. This is a worthwhile investment if you're looking for a budget 43-inch FHD TV. 
Good – Improved AV experience, Android TV 11
Bad – No more bundled OTT content 
Ugly – Competitor offerings 
Price – INR 25,999
Specs 
43-inch IPS Panel 
Dual-band WiFi, BT 5.0
Android TV 11
Quad-core A55 SOC with 1.5GB RAM and 8GB storage
24W Speakers with Dolby Audio, DTS-X
Rating – 3.5/5