The all-new 2022 Range Rover
After nearly a legacy of about half a century, Land Rover has finally unveiled its flagship SUV, "Range Rover", which made its premiere in the UK, ahead of its launch in early 2022. This Range Rover has been built on the triumph of its outgoing fourth-generation predecessor which became the synonym for the epitome of luxury full-size SUV around the world. Even though the overall silhouette remains the same, many indispensable changes have been carried out extensively on the technical front.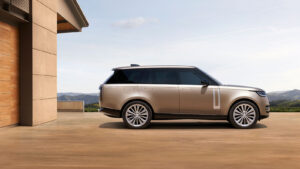 Exterior dimensions and looks:
At the first glimpse, it looks unneighborly to the outgoing generation, but many styling ques have been carried forward. Take a closer look, and you will notice that even though the overall delineation hasn't changed, the transpose lies in its details. From its sophistically slated grill design to the digital LED headlights claiming a beam range of 500m to the wholly revamped bumpers and gills on the flanks. Crisp body lines with flushed door handles to accentuate the sleek, seamless design of the new Range Rover. From the back, a more futuristic design with vertical blacked-out LED tail-lights gives it a much broader appeal as they are visible only when lit up. With blacked-out pillars, the glance of a floating roof is much appreciated. The wheel size could vary from 21-23 inches, depending on the spec you opt.
These evolutionary changes made on the new MLA-Flex platform of JLR will be made available in two different versions- the short wheelbase sitting at 2997mm and the long-wheelbase measuring a whopping 3197mm. The maximum ground clearance is estimated at 295mm, with rear-wheel steering (moving up to 7-degrees) being offered as standard across the range. As per the Land Rover DNA, the new Range Rover is supposed to have a water wading depth of 900mm and can tackle as steep as 45-degree inclines with utmost ease.
Interior comfort and Features:
More compendious changes have been carried out on the inside with a completely re-designed dashboard which houses a thoroughly overhauled infotainment system and driving aid tech. A 13.1-inch floating Alexa integrated touchscreen with haptic feedback and a 13.7-inch fully digital instrument cluster (with heads-up display as an optional) adorn the fondness of the interior. An entirely new designed two-bar steering houses physical controls for ease of use. A panoramic sunroof lets the cabin feel roomier and light up than before. The use of high-quality materials like leather, matte finish wood and brushed aluminum can be seen generously spread across the beautifully designed clean interiors.
As before, it will be offered in four, five and seven-seat configurations to choose from different variants amongst the long and short wheelbase layout. With active noise cancellation, a 1600-watt Meridian Signature sound system has moved a step forward with 20-watt speakers built into the four main headrests for an exhilarating experience. Loaded with the latest tech like power-assisted doors, an air purifier and a smartphone application to control vital features of the car, the range-topping spec will also get 24-way adjustable rear seats with massager. The central console will house a fridge with auto-folding tables, a large 13.1-inch entertainment screen, & an 8-inch touch control panel for the rear seat occupants will add up to the overall exquisite experience.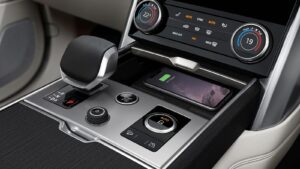 Drive & Powertrains:
With the four-cylinder engine options going obsolete, the patrons will get to choose from a 3-litre six-cylinder (both petrol & diesel) mated to a 48-volt mild-hybrid system churning outputs ranging from 250hp to 400hp and a 4.4-litre twin-turbo V8 producing 530hp propelling the Range Rover from 0-100kmph in just under 4.6 secs. The eight-speed ZF auto transmission will be standard across the range.
Later, a plug-in hybrid version will follow with a 3-litre six-cylinder petrol engine with a 143 hp electric motor which will derive its power from a 38.2 kWh lithium-ion battery delivering a combined output of 450hp (P450e) or 510hp (P510e). Range Rover claims that its PHEV battery will take just about an hour to charge up to 80%.
Land Rover has also confirmed that the all-electric variant may hit the roads by 2024, which will be the first EV from the brand.
Speaking about the drivetrain, a 48-volt electronic anti-roll system with an active rear differential locking system, five-link rear axle, and twin-valve Bilstein dampers makes it accurate to the off-road capabilities. The "Integrated Chassis Control" aids the driving by using navigational data to project oncoming terrain and adjust the suspensions accordingly. With as many as six drive modes to choose from, the famed Terrain Response 2 system has been integrated in the vehicle.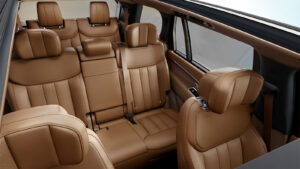 Will we get this in India? 
Of-course! But as a CBU like before. Land Rover has started taking the orders for the 2022 facelift and is expected to start deliveries by 2022. With the current generation priced from 2.10 crore to 4.30 crore (ex-showroom) , this particular one might see an increase in its pricing.